First $500 takes it!! This amp is pristine and includes the Duoverb HD, Line 6 2x12 cabinet, Duoverb amp swith, and the FBV4 Channel switch. I have also installed amp casters on the cabinet for easy moving.
Don't let this deal pass you by!
206-369-7616



With over 60 years of historic, legend-creating amp models, Duoverb screams pure, truthful, tone. The Duoverb has the look and feel of a classic, but with the mind and soul of a visionary. With its innovative Two Amps at Once (the secret to many a guitar hero's tone), and a range from hand-crafted boutique to vintage classic, every amp model in Duoverb is a tone machine just waiting to be unleashed. The Duoverb will take a bullet for you on the road, be dead-on accurate in the studio, and take the tone that's in your hands and shout it to the world.

Duoverb features:
Vintage versatility: 16 essential amp models
Award-winning Point-to-Point modeling technology
Simultaneous dual amp capability
Professional touring quality cabinet & chassis
Powerful 100-watt stereo power amp
Includes an amp I/II footswitch
4 programmable amp channel memories
Dual XLR direct output



Elegant in its design, simply plug in, turn the knobs and play. Tone, volume, simplicity and style, along with the versatility of two amps at once, make the Duoverb a modern classic!





Duoverb HD

100 Watts Stereo
29 lbs. (13.2kg)
26"W x 11"H x 10"D
(66cm x 26cm x 25cm)
Duoverb Amp Models based on*…

Line 6 Clean
'53 Fender Tweed Deluxe
'58 Fender Bassman
'64 Fender Blackface Deluxe Reverb
'65 Fender Blackface Twin Reverb
'59 Gibson GA-18T Explorer
'73 Hiwatt Custom 100
'65 Marshall JTM45
'68 Marshall Super Lead
'87 Marshall JCM 800
'93 Matchless DC-30
'94 Mesa Boogie Dual Rectifier Solo Head
'93 Soldano SLO 100
'67 Vox AC30 TB (Top Boost)
'61 Vox AC15
'01 Budda Twinmaster



It doesn't get any simpler than a guitar, a cable, and a great-sounding amp. Check out the Duoverb with nothing else but a 15-foot guitar cable.

Recording Notes
The sound examples were recorded and mixed completely flat.


Studio*: Two mikes (left:Shure SM-57 / right:Royer 121) were run into the 001's mic pre-amps.
XLR Direct*: The dual XLR outputs were sent straight into a Digidesign 001.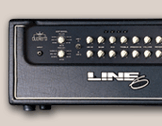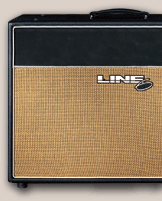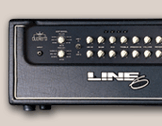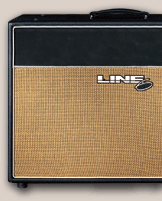 This amp includes the FBV4 pedal switch.
Don't feel like carrying around a full-sized foot controller? Now you don't have to! The FBV4 gives you access to four of your favorite settings plus Manual mode and Tap Tempo. With its new ultra-reliable switches and aluminum case, the FBV4 is designed to take decades of abuse on the road. FBV4: