Enders Brothers' Favorite Blues Artists
	Infinity 1 - Posters, t-shirts, caps and buttons.
	Pepperland - A good source for SRV collectors.
	SRV Fan Club - Official fan club site.  Best source for autographs and items owned by Stevie.
	SRV on Ebay - Online auctioning of a variety of SRV stuff.
SRV Sites
	Bob Willmot's SRV site - Searchable gig database with setlists and bootleg reviews.
	Double Trouble - The band's official site. Lots of cool pictures from a couple of really cool guys.
	In Memory of Stevie Ray Vaughan - Bio, discography and musicians quotes about SRV.
	Stevie's gear - An in depth look at Stevie's guitars and gear. Good section on getting "that tone".
	Texas Flood FAQ - Loaded with all sorts of info about SRV and his music.
	W.A. Williams' SRV site - Professional photographer's site featuring great shots of Stevie.
New! All Music Guide to the Blues - Anything you ever wanted to know about blues artists and their recordings.
Alligator Records - Blues label.  Artist list, online ordering.
Blues Festivals - Listings, highlights, interviews and news.
Blue Flame Cafe - An interactive biographical encyclopedia of the great blues singers and stringers.
Blues Town - Internet shows, radio shows and a chat room.
Blues WEB - Great articles about early and modern blues and the guitarists that made it sound so good.
Delta Blues Museum - info about the new museum in Clarksdale MS (home of the infamous "crossroads").
Electric Blues - Independent CD reviews and ratings.
Rhino Records - Blues label.  Discographies and online ordering.
Rock and Roll Hall of Fame - Virtual tour, inductee bios, visitor information.
The Blue Highway - News, links and chat.
---
Blues Format Internet Radio Stations
Broadcast.com - Round the clock blues.
Imagine Radio - Program your own radio station with the artists you choose.
New! WWW.com - Great site with lots of blues.  Preset your own stations from British to modern blues.
---
Gear
Gear Reviews
	Harmony Central - See what others have to say about the gear you have, or do some research before you buy.
	Stratocaster Discussion Page - Nothin' but Strats, baby!
	The Mining Company's Gear Reviews - Collection of links to gear reviews for amps, guitars and effects.





Fav Guitars

Fender Strat Plus Deluxe - Alder Body, maple neck.  This guitar has had the pickups replaced with
 Lindy Fralins.  The original Lace Sensor (blue, silver, red) found there way to ebay.  Features locking tuners, Fender/Floyd Rose floating trem.
                                                                                                                                                                               

Fender Telecaster Deluxe  - Ash body, maple neck.  There are two Fender "Vintage-noiseless" Tele pickups
 (neck/bridge positions) and one "Vintage-noiseless" Strat pickup (middle position), so this is one very versatile incredibly 
sweet tone machine.  Seven positions on the pickups by means of a mini toggle switch between the tone knobs.. 
                                                                                                                                  



Amps

Fender Hot Rod DeVille 212 - 60 watts in a 2X12 combo. It's pure Fender tube heaven! Review it

Fender Super Reverb (Silverface) - 45 watts driving a 4X10.This amp is the Holy Grail of blues amps. Review it

Effects

Boss TU2 Chromatic Tuner -

Uni-Vibe - The Jim Dunlop classic rotating speaker effect with foot controller. Review it

Ibanez TS9DX Tube Screamer (808 mod).

Ibanez TS-7 Tube Screamer

Proctavia -

Sparkle Drive -

Dan Echo -

Crybaby 535Q Wah -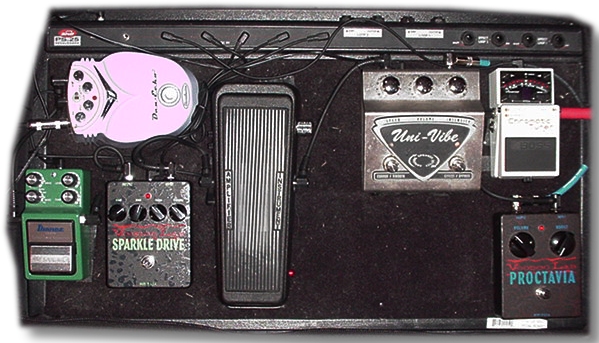 Manufacturer's Sites
	Fender - Online manuals and gear.  Features Fender, Fender Custom Shop, Guild, DeArmond, Squire, and Sunn.
	Gibson - Over 6000 pages of info for Gibson and Ephiphone.  Serial # search to date your axe.
	Groove Tubes - Lots of good tube info.
	Jim Dunlop - Complete line of Dunlop electronics and accessories.
	Marshall - King of the British stack!
	Mesa/Boogie - Product info, users manuals, and a virtual tour of the shop.
	Vox - Unofficial page.  Complete source of Vox amp, guitar and organ info.

---
Other Cool Sites
New! CD Quest - Create a custom CD of your favorite blues artists from a vast collection of songs.
Firebottle - Lots of good info on amps and tubes.
New! Guitar Lessons.Net - The hottest place on the net to hang out and learn to play guitar.  
The Fender discussion page - A great source of information about Fender gear.
The Mining Companys Guitar Links - Tons of guitar related links.
Tone, effects, and lots more - Guitar amplifier tone. Tone, effects, etc.
Vintage Guitars - Vintage guitar information.
| | | |
| --- | --- | --- |
| | | Back to top |